Description
LATE PLEDGE (English/German/Polish edition)!!!
Expected delivery date May 2021.
This Late Pledge will only be available until the end of April 2021.
FULLY FUNDED at Kickstarter: https://www.kickstarter.com/projects/429029786/blood-of-the-northmen-by-carl-chudyk/?ref=kicktraq
BLOOD OF THE NORTHMEN is the latest game by Carl Chudyk (Glory To Rome, Innovation, Impulse) taking players north of Europe into the wild Nordic lands of the 9th century. Each player controls his own Viking clan with a unique ability. Players playing tiles from hand together build a board on which they place their warriors. Each tile in the game is both a board element, an action card, and strength in a fight. During the game, players gain victory points by fighting other clans, as well as by taking strategic settlements. The game is filled with negative interaction and a huge amount of strategy and tactics. The game has an unusual and unique mechanics of using tiles, not yet seen in other games. 120 unique tiles, 48 high detailed figures and 12 Strongholds are just some of the items in the box. Carl Chudyk is back with a really innovative game  BIG game.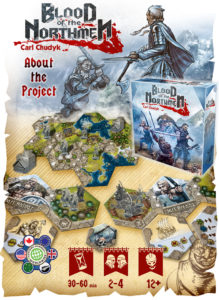 How to play:
https://www.youtube.com/watch?time_continue=445&v=c5XntVbo79A
English game rules: https://drive.google.com/file/d/1ajWjknaNRNy9OuENL5_f30wOlAwNqb1S/view